Sequoia Visions Private Training
Training on the process to conform to programs such as Colossus
Training on the use of all necessary Forms
Individual Training on the use of all Software
Individual Presentation to increase your understanding
PowerPoint Presentation Material
Presentation Manual for each member of your staff
One year Placement into the "Preferred Network"
Free Individual Claim Consultation
Receive hour per hour CLE credit for Training for each Participant in the Office
Personal Software Training by James Mathis
SETUP AND TRAINING PACKAGE FOR OFFICES OF 6 OR LESS EMPLOYEES FOR ONLY $400.00 PER HOUR PLUS COSTS.
Approved for Continuing Education Credits! This could be returned on your first claim settlement! Plus, each one after that! How can you not afford to do this?

What NCS Offers:
Demand Preparation
Claim Evaluation
Correspondence Review and Consultation
Negotiation to Settlement
Quick Review
Mediation Brief Preparation
Trial Preparation Assistance
Claim Survey
Practice and Procedure Review and Survey
775-849-8400 or Click here for more information
Please make check out to Sequoia Visions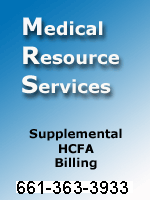 "I highly recommend the HCFA billing knowledge of Sandi Gutierrez and her company Medical Resource Services. I simply send the ledgers and bills from my client's treating physicians to Sandy and she creates Colossus friendly HCFA bills out of doctor's billings. Sandi is very knowledgeable about correct billing procedure as well as having great knowledge about how Colossus software programs read the HCFA bills. She is a very valuable asset and I recommend her very highly to any plaintiff's attorney going up against those insurance companies using Colossus type claims evaluation software programs."
John P. Burns, Esq.
Laguna Niguel, CA